PROVENCE CYCLING HOLIDAYS
- THE NEW VILLA...
Special Offer: 10% OFF 2021/2022 Tours. Offer ends 12th Apr 21.*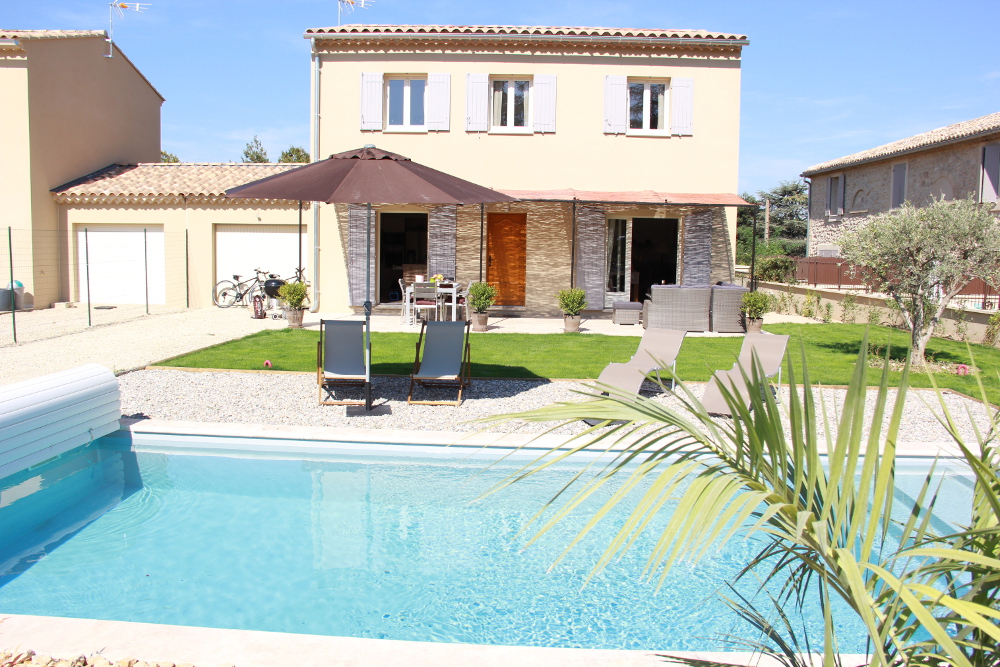 Following the success of our B&B based bike tours, we decided to launch a second similar bike tour venture. So from Sept 2016 we have been running bike tours from our new villa, nearby, in Taillades, in the Luberon National Park.
The way our new Villa based tours work are very similar to our current B&B bike tours that we run out of Coustellet, just 7kms away down the bike track. The main difference being that you have the entirety of the house for your group alone, and that it's on a self-catering basis.
For the biking, it's essentially the same set up. We provide you with quality, new Trek hybrid bikes and all the equipment you'll need. And we have a wide range of rides available, with rides to suit all levels of ability, and with a good variety of interesting destinations to give a great week's riding and visiting.
You can also now rent
carbon road bikes, tandems, as well as electric assistance bikes
so if one or both of you are not such strong riders it can make for an easier, fun time. (There's an extra €168 extra charge for your stay - please enquire at the time of booking).
All of our routes use the excellent Garmin Edge 1000 GPS systems for easy, no-stress navigation. And we provide back-up in the unlikely event of a mechanical problem.
Our villa based tours start on Saturdays, last for 6 nights, with a departure on Friday mornings. Bookings are available up to 6 people, with a minimum booking of 2 guests.
SOME TRIPADVISOR REVIEWS FOR OUR

PROVENCE BIKE TRIPS

:
Neil & Nat, where to start - AMAAZZING!!
"Thank you both so much for a great week at your gorgeous villa, the best equipped we have ever stayed in and your website photos don't do it justice.
We will be back but next time and next year for 2 whole weeks - can wait!!
A very big special thanks Nat for your daily helpful and informative visits and restaurants bookings - UMAMI is a delight!
And finally the pool - swam in it last night at 30+C before bed - fabulous!!
Very very sad to leave - wish we had booked longer but looking forward to coming back next year."
Tracy & Mickael - UK - June 2019.

Fantastic cycling in Provence
"We are just back home from a fantastic week with family in Neil and Nat's lovely villa with a good-sized pool in Taillades. It's only a short distance from Avignon, so we found it very easy and pleasant to travel on the Eurostar service that runs direct from London via Ashford to Avignon in the summer, with a rental car from the station.
The bikes are all first class and faultlessly maintained. Neil and Nat provide routes pre-loaded on Garmin GPS, which makes it so easy to follow without effort or stress, so you can just enjoy the rides. There is a great variety of excellent routes to choose from with lots of information about difficulty, what to see, and where to stop for a meal or just for a drink. After the first day my wife decided she would like to try an e-bike, and Neil came over to deliver one the same day, at a very reasonable rental cost.
All the equipment was first class. The villa is very roomy, modern, clean and comfortable. Neil and Nat are so friendly and helpful. This was our second holiday in Neil and Nat's villa, we will be going again I am sure, and we would thoroughly recommend the experience to others."
David & Gill - UK - July 2019.

"Dear Neil & Nat - Our first time & hopefully not our last! We have so thoroughly enjoyed staying at your gorgeous Les Taillades Villa.
Everything we hoped for! I would recommend this experience to anyone who enjoys 5* comfort combined with awesome cycling in the Luberon.
We were so very lucky to experience this, thank you so much for running this for tourists. All the very best!"
Villa based bike tour 5* review - Christina & Mike - NZ - June 2019.

"Neil and Nat's villa in Taillades was a wonderful choice for our adult family of 5 to meet up in Europe and holiday together. Choosing from the 30 odd self ride routes Neil has designed ensured we always rode on quiet picturesque country lanes and paths, while Nat would book us in for a fabulous lunch at a hilltop village that we never would have discovered ourselves. After not too strenuous exercise, we enjoyed some lazy time by the pool back at the villa while cooking a bbq for dinner. The villa itself was by far the best accomodation we had whilst in Europe and we all rated the experience 10/10 (and only one of us is a regular cyclist)!"
The Hamiltons - Australia - Sept 18 Villa-based tour 5* review.

"Don't think I have ever to been to a rental villa where everything works and everything is such tip top quality. Neil & Nat really have thought this out so carefully and beautifully, I suspect with a very generous budget. Really is a proper home from home - just a lot tidier than ours! And super convenient, with a restaurant and bakery a stroll away & a big supermarket a five minutes drive. Have just had a magical family day out along bucolic, flat, quiet lanes to a beautiful Provencal village (and lunch and more rose). The bikes are great, but the whole GPS idea and clearly hours and hours of research that has gone into it is just brilliant, making for such an easy and such a lovely day. Planning our next ride as I type - just follow the GPS pink line and you will be fine!"
Tim - UK - Aug 18 Villa-based tour 5* review.

"We are a family of 6 and stayed at the self-catering villa in Taillades. It was splendid. We loved the set up of the villa - the huge well-equipped kitchen, spacious living areas and comfortable rooms. It fitted our needs to perfection - we had privacy and all the support we needed from Nat & Neil. Our days were spent cycling on one of the many routes programmed on the GPS and Neil would point out the restaurants and highlight sights we should not miss. The bikes were in tip-top condition and it was so helpful that they provided helmets. Nat & Neil were helpful, engaging and wonderful hosts.
Highly recommended!"
Caroline - Singapore - June 18 Villa-based tour 5* review.

"Five of us had a fabulous time with Neil and Nat. We stayed in their Villa, you do have the choice of the B&B but we were so happy with the Villa. A 3 bedroom villa, fully stocked kitchen and a pool to cool off in.
Neil and Nat's attention to detail is the best I have seen. They listen to what you want and try their best to accommodate. Made reservations at restaurants we thoroughly enjoyed.
A place to visit and accommodations I would give five stars plus two!!"
Rose & Friends - Canada - Sept 17 Villa-based tour 5* review.

"We stayed at Villa Taillades in June 2017 with friends and had a
illiant time. The villa was beautifully furnished and equipped to a high standard, and it was a comfortable and chilled place to relax after a day out cycling, particularly the pool, as Provence was in the middle of a heat wave when we were there!
Neil and Nathalene were really helpful with advice on the rides, which restaurants to try and the best places to visit. All in all a fabulous holiday and highly recommended!"
July 17 Villa-based tour 5* review.

"Following our fantastic experience at Neil and Nat's B&B, my wife and I were desperate to return to Provence for more cycling, and I can honestly say that the Villa exceeded our expectations."
Sept 16 Villa-based tour 5* review.
For more details on our new tours please CLICK HERE...
If you would like to check on availability or have any further questions please contact us at natalene.cowell@yahoo.fr.
* Offer valid from Feb 1st, 2021, for 2021/2022 new bookings made before 12th Apr, 2021. Additional ebikes, road bikes or tandems not included.