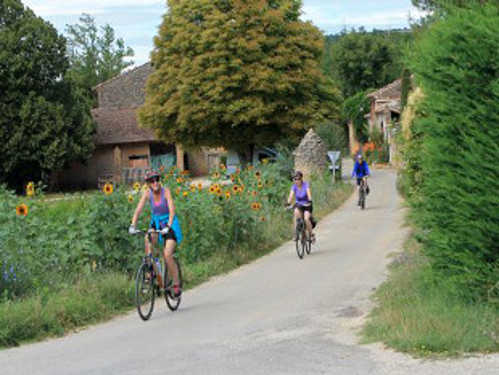 Bike Tours Provence, France - Single Base Trips from our B&B.
Enjoy our hosted, self-guided

Provence bike tours


from our family-run, 17th Century stone Farmhouse B&B in the

Luberon

,

France.
Special Offer: 10% OFF 2021 Tours. Offer ends 7th Dec 20.*
We have been running our single based Provence bike trips for the last 13 years, and have had a 5* rating on TripAdvisor for all of that time, along with a 100% recommendation rate.
Our cycling holidays are small scale, with no more than 8 bikers, so we are able to give you an individual personalised service, thus making sure you get the best experience possible cycling in Provence, France.
We live here all year round, so we have lots of local knowledge. And we use this to guide you along quiet, beautiful backroads, that will take you through picturesque landscapes, some beautiful lavender fields and on to the best sights; whether it be to an unknown pretty stone village, a favourite local restaurant, an authentic farmers' market or renowned vineyard.
Our Provence bike trips from our single base in Coustellet are self-guided and flexible. And we are always happy to help you choose the right ride, distance and level of difficulty to suit you on a daily basis. And you ride at your pace, after all these are your cycling holidays!
And you'll use our quality, brand new Trek hybrid bikes (Ebikes, Road bikes or Tandems available on request) & the latest, easy to use, stress-free Garmin GPS systems, preprogrammed with all of our most popular rides, for all levels.
Click HERE to read more about What's Included in our Provence Bike Tours.

SOME TRIPADVISOR REVIEWS FOR OUR

PROVENCE BIKE TRIPS

:

Neil and Natalene are outstanding hosts. Their local knowledge and attention to every detail made our cycling holiday outstanding. Great bikes and carefully planned routes already loaded onto our individual GPS, enabled us to explore and enjoy our rides,the beautiful villages, landscapes and total WOW factor of Provence.
The accommodation is fabulous and we enjoyed the pool and countryside location of the gorgeous traditional French Farmhouse. Being based in one location for 6 nights, with so much on offer was far more enjoyable than packing your bag and moving every day.
Local recommendations for restaurants, historical sights, art, shopping, vineyards, markets and more are all provided by Neil and Nat.
We highly rate and recommend Provence Cycling Holidays. We came from New Zealand for this experience and we are leaving 100% happy.
Cathy & Rob - NZ - Sept 19 - Provence bike tour 5* review.
Absolutely perfect
My husband and I had five fantastic nights staying with Neil and Nat in their gorgeous home.
We booked this after friends from NZ said it was the best part of their holiday and didn't stop raving about it. Neil is a really keen cyclist himself and so caters to the serious athlete as well as he did to us. We decided we were there to relax, see as much as we could and eat ourselves silly so we requested e-bikes. Excellent decision as we arrived in hilltop villages feeling very perky and pleased with ourselves. Neil was able to give us lots of local info about what to see and suggestions about good places to eat. The villages are stunning, lots to see. I'd say if you are looking for acycling holiday, book this! I'm a foodie who enjoys biking and this was absolutely magic.
Carol - NZ - June 19 - Provence bike tour 5* review.
Spending our week at Neil and Nat's single base B&B was the absolute highlight of our holiday. The experience was incredible, and the cycling was some of the best I have seen. Neil knows his stuff and has spent years fine tuning the best routes for his clients to see the very best of Provence. I am already planning my next trip and have recommended this experience to at least 5 other people and I've only been back for a couple of weeks!
Claire - Australia - Sept 18 - Provence bike tours - France - 5* review.
Had a great time biking in Provence from Neil and Nat's B&B, they were wonderful hosts. He knows how to get you to your destination via gentle hills or the hard way. And he's a devil in the kitchen. The meals he prepared were fantastic. 94% 5-star reviews says it all. A votre santé et merci beaucoup!!
Mike - US - June 18 - Provence bike tours - France - 5* review.
The towns we visited were nothing short of breath taking. My favourites were Rousillon and Gordes. On the ride there the lavender fields were in full bloom so we stopped to breath in the beautiful scent that filled the air. I would recommend Provence Cycling Holidays to anyone interested in doing a bike tour of this spectacular region of France.
Danila - Canada - June 18 - Provence bike tours - France - 5* review.
Neil has a wonderful system of bike trips all prepared for the little Garmin machines which you clip onto your bikes. Their farmhouse is within easy reach of all the pretty villages of the Luberon. The accommodation, the food and the swimming pool were all excellent and the little town of Coustellet was a perfect central point in the Luberon.
Sally - Australia - June 17 - Provence bike tours - France - 5* review.
Fantastic Cycling Tour in Provence!!! Every day we saw a different part of the Provence countryside. We biked through orchards, lovely vineyards and wineries and into charming hillside villages. We loved that we returned to the same spot each day to relax and then enjoy dinner at the B&B or pick a recommended restaurant for dinner nearby! If you are looking for a cycling vacation in Provence this is the one for you!
Gregg - US - June 17 - Provence bike tours - France - 5* review.
A dream came true! We were looking for the perfect vacation, a combination of cycling, sightseeing, good food and nice people. Neil & Nat's place is totally the one. With Neil's guidance we got to see the most beautiful places, villages and roads. Neil sat with us every evening and did everything he could to fit the routes to our requests. The hospitality was super nice; on the one hand they made us feel at home and on the other hand we had our privacy in our quiet, large and beautiful room on the second floor. Neil's dinners were one of the best things in this trip, cooked and served with love. Miss them already. The bicycles were in an excellent mechanical condition and made the rides enjoyable and easygoing. Many thanks to Neil and Nat for great memories de Provence
Guy & Ruth - Israel - June 17 - Provence bike tours - France - 5* review.
Wow! Our six days of cycling from Neil and Nat's single base B&B has been our favorite biking experience ever! From the moment we arrived, we felt completely comfortable. Just know that if you decide on Provence Cycling Holidays, you are in for a real treat...
Bonnie & Eric - US - Jul 16 - Provence bike tours - France - 5* review.
Our experience with Neil and Nat's property and guest experience was extraordinary. There is no better way to sightsee a beautiful area than on a bicycle seat, and it's nice when all the routes and planning are so well laid out and easy to negotiate with GPS units.
Hugh - UK - June 16 - Provence bike tours - France - 5* review.
This was our second stay at Neil & Nat's farmhouse B&B. The hospitality was just as outstanding as before. I can highly recommend staying here. We had a lovely vacation.
Mairi - Saudi - May 16 - Provence bike tours - France - 5* review.
This is the easy way to stay in one location and go on all these amazing rides through beautiful lavender fields and rolling hills of grape vines and fabulous Centuries old homesteads. Even if you have not been on a bike for a long time you are looked after so well by the hosts Neil & Nat.
Denise - Australia - Sept 15 - Provence bike tours - France - 5* review.
A terrific week of biking and hospitality! We've been on 7 self-guided biking trips, and this is our favorite.
John - US - June 15 - Provence bike tours - France - 5* review.
We've just returned from nearly a month's wonderful vacation in France. We visited Paris, Provence and Cote d'Azur, but undoubtedly the highlight of the vacation was 6 days cycling with Provence-Cycling-Holidays.com.
Peter & Ann - Canada - May 14 - Provence bike tours - France - 5* review.
Cycling heaven! For anyone who enjoys cycling, French cuisine, beautiful scenery and being sociable, this is an ideal place to book for a week or so.
Ezza - Australia - Sept 13 - Provence bike tours - France - 5* review.
I would recommend this trip to any cyclist.
Stephen - US - Sept 11 - Provence bike tours - France - 5* review.
"Hard to imagine a better vacation cycling in France..."
Peter & Frances - UK - Sept 10 - Provence bike tours - France - 5* review.
"Fantastic! A haven for cyclist Neil was extremely helpful in assisting us with route planning and pointing out many of the fabulous attractions of Provence."
Janette & Uys - South Africa - July 09 - Provence bike tours - France - 5* review.
CLICK HEAR FOR MORE TRIPADVISOR REVIEWS FOR OUR PROVENCE CYCLING TOURS...
* Offer valid from Nov 1st, 2020, for 2021 new bookings made before 7th Dec, 2020. Additional ebikes, road bikes or tandems not included.