OUR VILLA BASED TOURS - GPS SYSTEMS.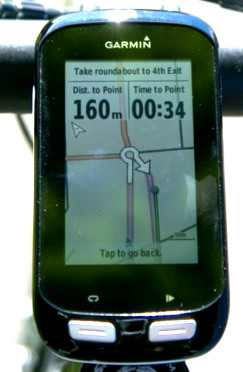 Here's what you gain when guided by our GPS systems:
Great guidance

: Detailed colour maps that move and turn as you do - you just follow your clear route line.

Easy to interpret

: Just before each junction the GPS switches to a clear turn instructions screen (see image to the left).

Stress-free cycling

: No getting lost in a place you don't know, no having to ask for directions in French!

Stop when you want to

: No more stopping at every junction with a paper map to check where you need to go. But when you do want to break for a beer or a meal, simply turn it off, then when ready to go again just turn it back on.

Travel light

: Leave all the maps at home.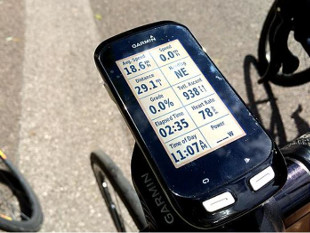 In addition to the maps and direction screens, our GPS systems will give you all the bike stats you could need (see image to the right):
Distance

: Distance travelled & distance remaining.

Navigation

: Distance to next turn.

Time

: Time travelled & Time of day.

Speed

: Current, Maximum & Average.

Climbing

: Metres climbed during ride, current % climb & altitude in metres.
You can choose the above or dozens of different other data points to displayed over various screens.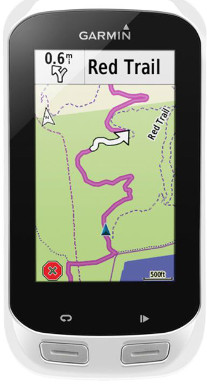 SOME CUSTOMER QUOTES ON OUR SELF GUIDED TOUR SET UP

"If you haven't used GPS before this will transform your cycling experience. As well as the rides that exist on the computer, Neil will create a tailor-made one for you in 5 minutes."
Nigel - UK - Oct 13.

"Neil created a couple of special routes for us, and we never once felt lost or uncomfortable with the surroundings. "
Courtney - US - Sept 12.

"Compared to other biking options, the GPS, combined with Neil's knowledge of the area made it stress free and allowed us to really enjoy our daily biking adventures."
Maryann - New Zealand - Aug 12.

"Neil's use of the Garmin GPS is a great idea and was very accurate and easy to follow. It made it much easier to follow then any printed route."
Stephen - US - Sept 11.

"So easy to use and I felt for those cyclists I saw pouring over maps trying to find out where they were. With this system you barely hit the main road and spend most of your time on small lanes, the likes of which you would needed to have grown up in the area to know they even existed!"
Patrick - UK - June 2010.

"Amazing system. Allows you to have a plan and know where you're going through small countryroads, villages, vineyards and orchards."
Dana - US - June 2010.
Click HERE to read more about A Typical Tour.