VILLA-BASED TOURS - WHAT'S INCLUDED.
Special Offer: 10% OFF 2021/2022 Tours. Offer ends 9th Feb 21.*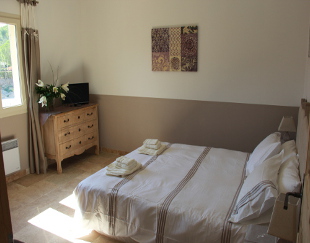 ACCOMMODATION: Stay in our new Provencal style villa. Furnished, decorated and equipped to a high standard, it has 3 large, comfortable double bedrooms & 2 bathrooms. Outside it has a large terrace & pergola, landscaped gardens and a covered pool.
Click HERE for more details...
BIKE SUPPLIED: We supply quality, aluminium Trek Hybrid bikes. If you would prefer a road bike, a tandem or electric assistance bike they can be rented for €28 per night - Please enquire at the time of booking.
Click HERE for more details.
GPS SUPPLIED: Our "easy to use" Garmin GPS systems make finding your way, and following our pre programmed routes, really simple!
Click HERE for more details.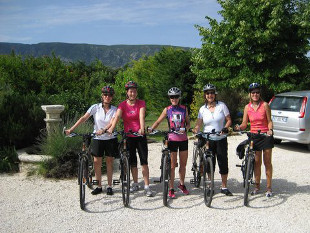 BIKE EQUIPMENT: Helmets, pannier bags, repair kits, pumps, bottles, locks, SPD pedals etc...
Click HERE for more details.
RIDE DIRECTORY: We'll supply you with our paper-based directory to help you choose the right rides. The following information is available for our 30 rides:
A map with the route highlighted and the nearby villages.
An altitude profile of the ride.
Multiple selection criteria: Distance, Time (@ different speeds), Metres climbed & a climbing difficulty rating.
Tourist information: We have all the most popular sights along the way listed, along with the best restaurants & cafes etc.
These tried and tested, back road rides are all pre-programmed onto your GPS.


Click HERE for more details.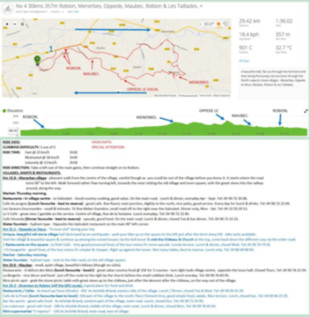 RIDE NOTES: Each ride in the directory has its own set of notes on a small card that you can take with you on your bike. These cards show the map overview, some stats, but most importantly of all, it lists all of the most popular tourist sights & restaurants along with all the information you'd need to help you get the most from your ride.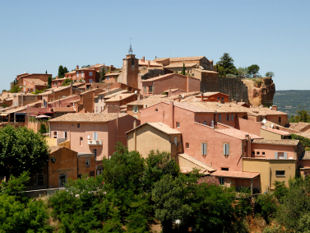 BREAK-DOWN HELP: You can relax and enjoy your day, knowing that in the rare event of a bike problem help is just a call away.
LOCAL / TOURISM INFORMATION: We supply a folder with information on all the most popular things to do & see in the Luberon & Provence. Plus a list of our and our guests' favourite, tried & tested restaurants & cafes. We have also put together a comprehensive directory with all the services you might need, along with where to find them, opening hours, tel nos etc; supermarkets, markets, pharmacies, doctors, cash points etc.
Click HERE for more details.
SUPPLIES: We provide you with a Starter Kit, enough to get you going with some: milk, tea and coffee, cordial, sugar, S&P, olive oil, toilet rolls, kitchen roll, washing-up liquid, washing powder and dishwasher liquid.
We provide pillows, bedlinen, towels, toilettries (showel gel, shampoo, handsoap, washing-up liquid as grease remover) and hairdryers.
There is also a vacuum cleaner, mops, dustpan & brush... No need to bring or buy sponge, mop...
And, there is free WIFI in the house and on the terrace.
A visit to Provence was always on the "Bucket List" only enhanced by the desire to do some biking to see the best the area had to offer.
Provence Cycling Holidays was a great find!!
We opted for the Villa offering and were not disappointed, it was beautifully presented and catered for our needs.
The bikes were 1st Class and as was all the biking info, GPS and guides.
A very well put together package.
Thumbs up from us!
Robert – NZ – Oct 17 Villa-based Tour 5* Review.

We would without hesitation return as we feel there is still much to explore on our bikes and Neil and Nat are so welcoming. The Villa is fantastic for those wanting a little more independence and privacy in comparison to the B&B and perfect for a family or a group of friends. Really a first class service. Despite being away from the B&B we still felt we were just a well looked after as if we were staying there. The only thing we missed was Neil's cooking. Hopefully when we return our daughter will be able to go in a bike trailer so she can join the fun too.
Sept 16 Villa-based Tour 5* Review.

SOME CUSTOMER QUOTES ON OUR SELF GUIDED TOUR SET UP

"Working out of a home base everyday on our self-guided and self-paced tours was the way to go. We could bike as little or as much as we wanted, leaving enough time for sightseeing, shopping and of course eating!!! The time Neil put into researching and developing the courses one has to choose from for each days ride, made everyone of them a winner.
Anyone looking for a nice French biking experience . . . I would highly recommend the way we did it. "
Mary Jean & Rick - US - Oct 17.

"Neil has created a number of rides that permit a fabulous sampling of what Provence has to offer - villages, sites to visit, restaurants. To stay in one place and have so many choices of rides was amazing."
Janet & Michael - Can - July 17.

"Our experience with Neil and Nat's property and guest experience was extraordinary. There is no better way to sightsee a beautiful area than on a bicycle seat, and it's nice when all the routes and planning are so well laid out and easy to negotiate with GPS units.
In addition to the bicycle experiences, Neil's and Nat's advice, support, and facilities were remarkable."
Lois & Hugh - US - June 16.

The bikes were first rate hy
ids and Neil has assembled an outstanding list of rides that make extensive use of little traveled roads. Neil too is fantastic at customizing rides that take your preferences into account and his GPS system is an essentially fail proof way to complete each of the circuits without fear of getting lost.
Highly recommended! "
Kellie & Neil - UK - July 15.

"It's also very comforting to know that a friend with a car is just a phone call away should you need help. It's an ideal way of bicycle touring because you can ride at your own pace and schedule, or just take a day off to be a regular tourist. "
Courtney - US - Sept 12.

"The best part was that each bike was equipped with its own GPS allowing us true custom tour routes."
Jeff & Lynda - US - Sept 2010.
* Offer valid from Dec 1st, 2020, for 2021 new bookings made before 11th Jan, 2021. Additional ebikes, road bikes or tandems not included.
Click HERE to read more about how our Villa-based Tours work.