RIDES SELECTION AT OUR B&B BASED TOURS
PROVENCE BIKING HOLIDAY, FRANCE.
The cycling and weather, that we have in the Luberon valley, Provence, is excellent. Cycling in Provence, means everyday biking along beautiful, calm back roads and through outstanding landscapes and countryside, with many world famous, Provencal villages as our destination.

Over the years of running Provence biking hosted tours, it became very clear to us that not all cyclists are the same. Some prefer a short, gentle ride with an emphasis on sight seeing, visiting & cafe stops. Whereas others, prefer a longer, hillier ride where the effort is more important. So what works for one group, will not necessarily work for another.

So in order to make the most of all this great cycling in Provence, France, for the different types of bikers that visit, we have developed, and adapted over time a Ride Directory of more than 30 self guided routes. The main focus of which is flexibility.

Here's how it works...
Step 1 - Choose a different zone to visit each day:
From whichever direction you go out of our single base Bed and Breakfast, you're in for great biking in Provence, France. So, we have created 6 different geographic zones around the farmhouse, A through to E. By selecting any given zone, you'll have a full, different day's cycling and sights each day, with very little repetition from one day to the next.

And we can give you help as to which zone is best for any given day; When are the best market days? When are the best restaurants open? Which day is best to visit a village? Museum closing days...

You'll get to see beautiful old Luberon villages, countryside and some amazing sights on each day's ride (chateaux, museums, lavender fields, churches, provençal markets, restaurants, vineyards, cafés etc).

Here are our 6 different geographic zones:
Zone A - Along the waterways.

This is a lovely, very flat route along the beautiful Sorgue river with just 35 kms / 21 miles and only 150m of climbing, where you can visit the famous villages of L'Isle sur la Sorgue & Fontaine de Vaucluse along with Lagnes. A longer trip visits these villages plus St Didier & Pernes les Fontaines for approx 65 kms / 40 miles.
Zone B - 2 of the most Beautiful Villages in France. A superb, rolling ride with just 39 kms / 24 miles and 500m of climbing, we can take you the easiest, and a very picturesque way through the lavender fields to two of France's "Most beautiful villages" Gordes & Roussillon. With a longer ride you can visit these villages plus Murs, Lioux & St Saturnin for approx 65 kms / 40 miles.
Zone C - "A Year in Provence" country. With a trip of just 37 kms / 23 miles and only 350m of climbing, we travel the superb winding bike route visiting the archetypal Luberon villages of Menerbes, Oppede le Vieux, Maubec, Robion & Les Taillades. With a longer ride you can visit these villages plus Vidauque & Cheval Blanc for approx 52 kms / 32 miles.
Zone D - Rail bike track to Bonnieux. With a minimum of 33 kms / 21 miles and only 324m of climbing you can visit the excellent rail bike track, ride through beautiful vineyards and visit picture perfect Bonnieux. A slightly longer, but easy 51k will also take you over the ancient Roman Bridge and to the excellent market at Apt. A longer, harder tour visits these villages plus Saignon & Lacoste for approx 65 kms / 40 miles.
Zone E - Around the Petit Luberon Hills. With 76 kms / 47 kms and a 800m of climbing you can cycle around the Luberon hills visiting Vidauque, river orchards, Merindol, Lauris, Lourmarin & Bonnieux.

Zone F - Unknown treasures.

With just 35 kms / 21 miles and 450m of climbing we can take you the easiest way to visit Goult & Lacoste. A longer route visits these villages plus Joucas & Gargas for approx 65 kms / 40 miles.
STEP 2 - Select the difficulty of your ride:
Use our Ride Directory, along with help from us, if you need it, to choose the right ride for you.
For simplicity, we have divided our self guided rides into 4 levels of difficulty:
Easy,
Moderate,
Hard,
& Hardest.
The level of ride difficulty is a combination of both the Mileage and the amount & difficulty of the Climbing during the ride.
So, for example an Easy category ride will feature low mileage along with limited climbing, and any climbing will be the easiest possible to get you to the places of interest. And at the other end of the scale a Hardest category ride will have high mileage mixed with potentially lots of climbing that will feature some high gradient climbing.
Minimum distances & Moderate rides - We have designed our Ride Directory so that every zone has a Moderate ride of between just 33 and 39 kms (21/24 miles) of biking for the whole day. And importantly, any climbing takes the easiest possible routes, thus making for a leisurely ride. And although these moderate rides have a relatively low mileage, they have nonetheless been designed with a full day's Provence cycling and entertainment in mind.
And remember if you want more Kms than you see above (step 1), that really isn't a problem. We'll just sit down with you, listen to what you want, and draw you a GPS route using our knowledge of the terrain and the backroad network. It takes just 10 mins, all in, to draw and upload the route to your GPS. We'll also give you a paper map overview and info on all the best sites along the way.
So, once your zone and ride chosen, simply select the ride number on your Garmin GPS and off you go! Please note that all rides start and finish at the farmhouse, this is single base cycling.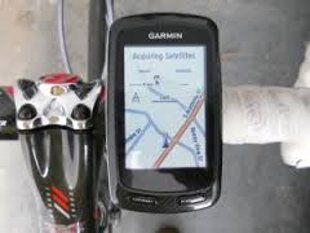 SOME OF OUR TRIPADVISOR, B&B BASED, PROVENCE CYCLING TOURS REVIEWS:

The bikes were comfortable to ride and in excellent condition. There are many different GPS guided routes to choose from. Neil met with us every morning, and would make suggestions of routes based on the weather and what we felt like doing that day. Neil knows each of the routes in great detail, and provided pointers in terms of what to look for along the route and in the various towns. In addition to the GPS, we had laminated hard copy index cards that had a map of the route along with notes about what to do/see along the way. Lack of information was never a problem!
In addition to providing ideal cycling routes, Neil made excellent suggestions for restaurants, and even made dinner reservations for us. Neil prepared two of the evening meals - which were excellent, as were the breakfast that was available every morning.
I highly recommend Provence Cycling Holidays!
Mark & family - US - May 19 - Biking Holiday in Provence - 5* review.

Neil would review our route for the day with us at breakfast to ensure we were clear on what to expect. You could select how challenging you wanted the ride to be ie flat, hills, distance. The towns we visited were nothing short of breath taking. My favourites were Rousillon and Gordes. On the ride there the lavender fields were in full bloom so we stopped to breath in the beautiful scent that filled the air.
Danila & Richard - Can - July 18 - Provence biking hosted tours, France - 5* review.

Our stay with Neil, Natalene, Lucy, and Jamie turned out to be the highlight of our European holiday. Neil's personalized route planning makes for a very enjoyable cycling experience. Each morning Neil discusses the cycling options and tailors the routing to your specific interest. There's lots to choose from: hill top villages, ancient castles, vineyards, canals, outdoor markets, and of course, lavender fields.
Lynn & Blair - Canada - Feb 17 - Provence biking holiday, France - 5* review.

"We were all at somewhat different biking levels but it didn't matter one bit! Neil put together amazing rides where we saw breath taking scenery, gorgeous little towns with so much history, and fantastic restaurants. "
Gail & Alan - US - May 16 - Provence biking hosted tours, France - 5* review.

Having the rides all loaded on the GPS is brilliant - so easy & really quite idiot-proof. Also the included trip cards that Neil provides for every ride as really great - they include all kinds of practical & sightseeing info & we used them tremendously (they are laminated & fit easily into the back pockets of bike shirts or a small purse...so thoughtful)
Julie - US - June 15 - Provence biking holiday, France - 5* review.

"Biking: As hard or easy, short or long as desired. Neil has encyclopedic knowledge of every twist and turn, every bike path and intersection in the region. Incredibly, all this knowledge comes with you in the form of easy to use, clear as day, Garmin GPS device. Once we selected one of the 60+ pre-mapped routes from Neil's catalog, or ask him to combine any number of choices, the instructions were loaded onto the Garmin, and we were off."
Eric - US - Oct 14 - Provence biking hosted tours, France - 5* review.

As first time cyclists we knew nothing about organising a cycling vacation. We didn't need to worry as Neil took care of everything. A huge selection of self-guided tours all pre-programmed into a GPS that attaches to your bike.
Sarah - US - July 13 - Provence biking holiday, France - 5* review.

The cycling is easy to moderate, though can be made a bit challenging by increasing the distance to as much as you would like. The GPS guidance is truly splendid and the Luberon scenery is first-class.
D - July 12 - Provence biking hosted tours, France - 5* review.

Our cycling vacation couldn't have been better. Neil was able to customized our daily rides and knew just where to send us for a day of riding through lavender fields, olive and cherry orchards to hill top castles with fabulous views of the Luberon region.
Nancy - US - July 11 - Provence biking holiday, France - 5* review.

"Neil has a complete menu of different self guided rides to choose from (cycling for softies through to fast bikers), depending on the kind of challenge you want. Or he can create a route for you right on the spot."
Donna - US - June 10 - Provence biking hosted tours, France - 5* review.
Click HERE to read more about our GPS Systems.