2011 REVIEWS FOR OUR B&B BASED PROVENCE BICYCLE TRIPS.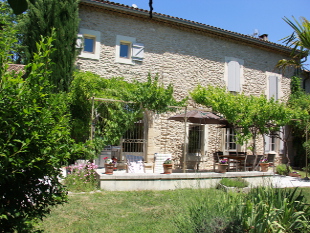 Following are our 2011 TripAdvisor reviews for our self guided Provence bicycle trips:
"Neil and his wife Nat have put together a great tailored package for cyclists, beginning with the wonderful 18th century farm house that you stay at which is surrounded by vineyards, cherry trees to the great evening meals that Neil cooks up. The cycling routes that Neil lays out due to his extensive knowledge of the historic areas and wonderful cafes for lunch are outstanding. His use of the Garmins is a great idea and was very accurate and easy to follow. It made it much easier to follow then any printed route and our climb of Mt Ventoux was exciting! Overall I would recommend this trip to any cyclist."
Stephen - US - Sept 11 - Provence bicycle trips 5* review.

"We received personal service with easy-to-use comprehensive hi-tech GPS guidance for cycling around a beautiful part of France. Accommodation was comfortable and homely with great hospitality including lovely home-prepared food. Suitable for a broad range of cycling ability too."
Nick - UK - July 11 - Provence bicycle trips 5* review.

"Excellent. Whether you are a cycling newby of questionable fitness or a serious club cyclist, Neil would be able to come up with suitable rides for you starting (and finishing) at the single base B&B. The Luberon has some beautiful countryside and many traffic-free roads to enjoy. Once back at base, there is a lovely homely atmosphere and great hospitality. A marvellous time!"
Carrie - UK - July 11 - Provence bicycle trips 5* review.

"We arrived at Neil & Natalene home and were welcomed like old friends and treated like part of the family. Cycling through the Luberon valley after having breakfast under the grape vines, going to an idyllic village to have lunch and knowing that Neil was preparing a feast for dinner was only a part of the experience. Neil's knowledge and obvious love of bikes and the region helped to make our holiday a most memorable time. We plan to return and indulge in Provence again! The home, food and cycling was more than we expected, perfect holiday!"
Kim & Annemarie - Australia - May 11 - Provence bicycle trips 5* review.

"Our cycling experience couldn't have been better. Neil was able to customized our daily rides and knew just where to send us for a day of riding through lavender fields, olive and cherry orchards to hill top castles with fabulous views of the Luberon region. It was an all around 5 star experience. Outstanding hospitality, great location, wonderful experience. We hope to return soon, with more family and friends.
Nancy - US - July 11 - Provence bicycle trips 5* review.

For other years' reviews, please click in the Menu.
Click HERE for Frequently Asked Questions.