TESTIMONIALS.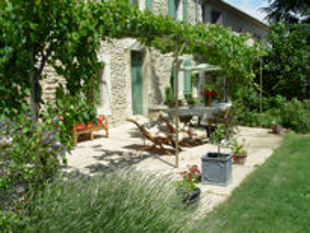 Following are the latest reviews for our bike holidays:
My wife and I recently stayed at Provence Cycling Holidays for 8 days on a self-guided bicycle adventure. We were extremely happy with the accommodations, cycling, and the excellent breakfasts and dinners every other night. The stay was an outstanding experience. Neil is a cyclist himself and knows the area in detail. He works hard to fit you with bikes and GPS routes appropriate for your abilities; whether beginner or seasoned cyclist. He provides pocket guides on recommended sights and restaurants along the route. Neil created a couple of special routes for us, and we never once felt lost or uncomfortable with the surroundings. It's also very comforting to know that a friend with a car is just a phone call away should you need help. It's an ideal way of bicycle touring because you can ride at your own pace and schedule, or just take a day off to be a regular tourist. Staying with Neil and Natalene was everything we hoped our Provence bicycle trip would be, and we would give them six stars if that were an option! If you like bicycling in Provence, you won't be disappointed with Provence Cycling Holidays!
Courtney – US – Sept 12.

An excellent holiday exceeding our expectations. It was wonderful to stay with Neil, Nat and family in the French countryside. The hospitality in a friendly environment, great food and spotless accommodation made it a pleasure to stay here. Compared to other biking options, the GPS, combined with Neil's knowledge of the area made it stress free and allowed us to really enjoy our daily biking adventures. A trip we will always remember and recommend to others.
Maryann Robson - Christchurch, New Zealand – Aug 12.

I recently spent 5 weeks cycling around France. The major highlight of the holiday was the time I spent with Neil from Provence Cycling Holidays. You get to stay in a 17th Century Farmhouse in a relatively small French town. Neil and his family are wonderful hosts, not to mention Neil's cooking which is excellent. Each morning, after a scrumptious breakfast, you have the choice of up to 60 rides already programmed into the GPS system. Alternatively, Neil will create a new map for you tailored to meet what you would like to cover that day. It's such an easy way to get around and cover all the major villages in the area. The bikes are excellent and well maintained. It's wonderful to come home in the afternoon and jump into the pool then relax over a glass or wine or two. I highly recommend this experience. You won't be disappointed.
G McEwen – NSW, Australia – May 12.

This is a perfect get-away with terrific hosts. The cycling is easy to moderate, though can be made a bit challenging by increasing the distance to as much as you would like. The GPS guidance is truly splendid and the scenery is first-class. Don't think twice; just go for this one whole heartedly.
D – July 12.

Your host, Neil, has taken his Bed and Breakfast, a fully renovated 17th century farmhouse, and value added cycling and gourmet dining to the package. His GPS guided tours are a dream. Choose from 60+ routes that accommodate a spectrum of skill and fitness levels, all programmed into a bar-mount Garmin instrument that guides you along the back roads of Provence. Then settle in for a great meal, a la Provencal, and a good night's rest.
P. Sanders – AZ, US – May 12.

We spent 5 days with Provence Cycling Holidays and had a really terrific time. I cannot recommend strongly enough if you are looking for an easy going and flexible touring arrangement for the Provence area. You can ride as little or as much as you like, all in the convenience of a lovely rural base. This will not be a 5-star accommodation (though it is lovely), but rather the best value you can find for a premiere holiday cycling in a most beautiful area. Two thumbs up!
D. Moliterno – KY, US - June 12.

We just spent 5 glorious days touring the Luberon using Neil's self guided GPS units – definitely the way to go! You get to tailor the ride to your own specific needs and travel at your own pace and stop whenever you choose. Neil's recommendations for restaurants to try were excellent. His hospitality is second to none. We had so much fun and got to see some amazing villages.
G. Zimmerman - Vancouver, Canada – May 12.

We highly recommend Provence Cycling Holidays, a unique way to see Provence by bicycle while staying in Neil and Nat Cowell's small, warm Bed and Breakfast just outside of Coustellet in France's Luberon region. Guests select their own gps-guided cycling trips from an extensive menu of trips provided. This is perfect for cyclists of varying skills and desires. One can choose a challenging day-long hill climb or a leisurely hour ride to lunch. The Cowells are wonderful hosts, offering delicious dinners every other night. Highly recommended!!!
Bruce – US – Oct 12.

A perfect combination of great weather, great food, great company and a comprehensive selection of scenic cycle routes to suit every ability. The bikes were very good quality and the GPS made route finding so easy and enjoyable that you won't want to cycle without one again. Neil's advice and local knowledge was absolutely invaluable and helped us to make the most of everyday.
T and E Calnan - Northants, UK – July 12.

"Neil and his wife Nat have put together a great tailored package for cyclists, beginning with the wonderful 18th century farm house that you stay at which is surrounded by vineyards, cherry trees to the great evening meals that Neil cooks up. The cycling routes that Neil lays out due to his extensive knowledge of the historic areas and wonderful cafes for lunch are outstanding. His use of the Garmins is a great idea and was very accurate and easy to follow. It made it much easier to follow then any printed route and our climb of Mt Ventoux was exciting! Overall I would recommend this trip to any cyclist."
Stephen - US - Sept 11.

"We received personal service with easy-to-use comprehensive hi-tech guidance for cycling around a beautiful part of France. Accommodation was comfortable and homely with great hospitality including lovely home-prepared food. Suitable for a broad range of cycling ability too."
Nick - UK - July 11.

"Excellent. Whether you are a cycling newby of questionable fitness or a serious club cyclist, Neil would be able to come up with suitable rides for you starting (and finishing) at the B&B. The Luberon has some beautiful countryside and many traffic-free roads to enjoy. Once back at base, there is a lovely homely atmosphere and great hospitality. A marvellous time!"
Carrie - UK - July 11.

"We arrived at Neil & Natalène's home and were welcomed like old friends and treated like part of the family.. Cycling through the Luberon valley after having breakfast under the grape vines, going to an idyllic village to have lunch and knowing that Neil was preparing a feast for dinner was only a part of the experience. Neil's knowledge and obvious love of bikes and the region helped to make our holiday a most memorable time. We plan to return and indulge in Provence again! The home, food and cycling was more than we expected, perfect holiday!"
Kim & Annemarie - Australia - May 11.
"Our cycling experience couldn't have been better. Neil was able to customized our daily rides and knew just where to send us for a day of riding through lavender fields, olive and cherry orchards to hill top castles with fabulous views of the Luberon region. It was an all around 5 star experience. Outstanding hospitality, great location, wonderful experience. We hope to return soon, with more family and friends.
Nancy – US – July 11.

"My husband and I are fit but really only neighborhood cyclists. We were a bit concerned about this adventure but could not recommend it more highly. We choose GPS guided tours that fit our abilities allowing us to enjoy the small villages, farms and local eateries. Neil and his wife were lovely hosts and good cooks. It was one of our most favorite holidays."
Gary – US – July 10.

"My daughter (14) and I just returned from a perfect holiday in Provence. We wanted to do some cycling, but wanted more flexibility than what the other tours had to offer. Here, you could take off for a ride at your own schedule, travel at your own speed and stop whenever you felt like it...which was often as there were so many spectacular photo opportunities. The GPS system works perfectly and you can feel completely comfortable going out for a beautiful day of cycling. Neil has a complete menu of different rides to choose from, depending on the kind of challenge you want. Or he can create a route for you right on the spot. He knows the area so well and keeps you on beautiful, quiet, country roads. We passed vineyards, olive groves, lavender and travelled through beautiful Provencal villages. The B&B was a quintessential Provencal stone farmhouse, across from a cherry orchard with a beautiful view of the Luberon Mountains. "
Donna - US - June 2010.

"As it was our first cycling holiday we didn't know exactly what to expect but Neil made it all very easy with great bikes and great advice. Coustellet was a great base for seeing the gorgeous Luberon valley, a large selection of rides to suit all, which the GPS system makes stress free! Neil and Nat were very accommodating hosts and the property is fantastic. Highly recommended. We will definitely be doing some more cycling holidays as a result of our great first impression (perhaps the best compliment we can give)."
Richard & Annette - UK - June 2010.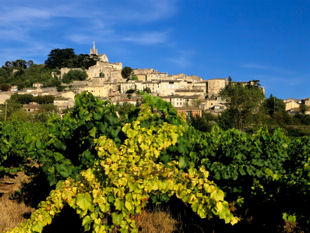 "The cycling was fantastic made all the better by the GPS system and the route directory which is such a good idea. The alternative is to take a map and plot your route but I think you would find it hard to find the small lanes that Neil's routes take you down. He knows all the routes and will tell you first hand what to expect and how hard the ride is likely to be. And if you want a route that sets you a bit of challenge with a good restaurant for lunch Neil will point you in the direction and recommend the best places to visit. If you are into cycling or even just fancy touring the area a stay with Neil and his family really is the answer. Even if it's just for a few days or longer, there's so much to see and the area is beautiful. And if you want the ultimate cycling challenge you can travel to Bedoin and then head up Mont Ventoux, an experience which will stay with you for some time to come! Neil and his family are very welcoming and its very home from home, so you really can't fail to relax and enjoy the area."
Patrick - UK - June 2010.

"We travelled to Provence for a short cycling break. The accomodation was great, with traditional Provencale accomodation and food to a high standard, a fastastic welcome from Neil and Natalene,and terrific bikes. The GPS on the bikes was brilliant, and made the tours very enjoyable. We would definitely come again - and probably will next year.
Manon & Sarah - UK - Sept 2010.

We were looking for an authentic experience of Provence and we found it in this 17th Century farmhouse. Friendly English-speaking host, Neil, bent over backwards to make sure we were comfortable and were having fun. The breakfast was wonderful and abundant with local fresh produce. The location is convenient to the most scenic hill towns providing a variety of riding experiences. The best part was that each bike was equipped with its own GPS allowing us true custom tour routes. Just do it! You won't be sorry.
Jeff & Lynda - US - Sept 2010.

Hard to imagine a better vacation cycling In France. Neil's bikes are fun and easy to master. The sat nav worked well and tolerated the odd detour superbly so going back to the planned route was easy. As for the hosts, Neil and family are warm and friendly - and made sure we got the most out of our stay. Watch out for Rocket the cat - a charming kitty but totally crazy.
Peter & Frances - UK - Oct 2010.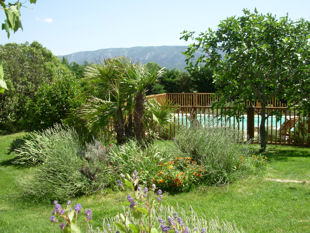 Exactly as the website said. Great cycling in beautiful surroundings with some great places of interest to visit. Accomodation excellent and the host family were lovely. Equipment was ideal for its purpose and the sat nav's made life so easy. Very easy to get to by train so great for the environment too! All in all a perfect holiday.
Pippa & Dave - UK - July 2010.

I was looking for a cycling holiday where, as a single woman, I wouldn't feel out of place. I needn't have worried, Neil, Natalene, Lucy, Baby Jim (and Rocket the kitten!) all made me feel so welcome and the cycling was perfect.......I pedalled for miles every day through tiny hill top villages, fields full of lavender and sunflowers......it was bliss. And after a day's cycling it was wonderful to arrive back and relax by the pool and look forward to one of Neil's fabulous suppers. I will definitely be going back!
Julie - UK - July 2010.

I am traveling with my 16 year old stepson and was not sure how he would adapt to life on the road, new customs and full days of cycling. Our stay with Neil and Natalene has turned out to be the perfect entre to France. Our rides to Isle Sur la Sorge, Fontain de la Vaucleuse and Gordes gave each day a sense of exploration and adventure and provided enough exercise to justify a happy excess of French bread and homemade jam for breakfast and Neil's sumptuous Provencal dinners. Add in Rocket the cat, two adorable kids (Lucy and James), the eclectic collection well traveled guests and the exquisite farmhouse setting and we could not have imagined a more perfect start to our trip. For others traveling with teenage boys, Trevor would like to offer that the cutest teenage girls are to be found in the market at Gordes.
Barbara & Trevor - US - Aug 2010.

This was a wonderful place to vacation with my 13 year old son. The biking was wonderful and the scenery and location beautiful. Neil adapted routes to fit our needs and desires and went out of his way to make sure we were comfortable and taken care of. It was great to meet and dine with the Cowell family.
Dana & Flynn - US - June 2010.
Click HERE for Frequently Asked Questions.

Neil & Natalène COWELL- Provence Cycling Holidays - 536 Chemin du Sarret - 84220 Coustellet - France.
Tel: 00 33 (0)4 90 75 03 95 - Mob: 00 33 (0)6 66 99 98 02 - Email: neil_cowell@yahoo.fr
© Provence Cycling Holidays 2010 - All contents, all rights reserved. - SIRET No (French Company Registration No) 51922933000013