RIDE SELECTION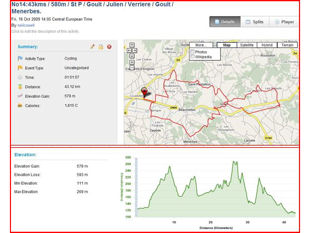 You have the flexibility to choose a ride based on where you want to go, and how hard or easy you want it to be. Using the Ride directory (and of course some input from us, if you need it) you can select your ride based on the following criteria:
Once your self guided ride chosen, simply select the number on your Garmin GPS and off you go! Please note that all rides start and finish at the farmhouse.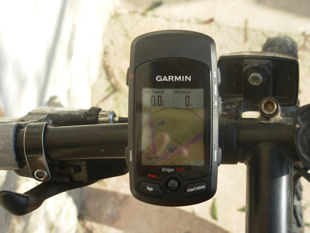 We will of course give you a run down on how the GPS works and we'll also take you out for a short 3 kms pratice ride too - but don't worry it really is a simple and a great way to cycle! And as back-up, we will give you a carry card with all the basic functions of your GPS - don't worry though we haven't lost anyone yet.

Note the Garmin GPS fixes solidly onto your bike's handlebars, and comes off easily for when you are visiting on foot.
"As first time cyclists we knew nothing about organising a cycling holiday. We didn't need to worry as Neil took care of everything. A huge selection of self-guided tours all pre-programmed into a GPS that attaches to your bike."
Sarah - US - July 13.

"The cycling is easy to moderate, though can be made a bit challenging by increasing the distance to as much as you would like. The GPS guidance is truly splendid and the scenery is first-class."
D –- July 12.

"Choose from 60+ routes that accommodate a spectrum of skill and fitness levels, all programmed into a bar-mount Garmin instrument that guides you along the back roads of Provence. "
P. Sanders –- US -– May 12.

Our cycling experience couldn't have been better. Neil was able to customized our daily rides and knew just where to send us for a day of riding through lavender fields, olive and cherry orchards to hill top castles with fabulous views of the Luberon region."
Nancy -– US -– July 11.

"Multiple rides with really wide ranging lengths/climbs/variations, and really good information to accompany each ride, i.e. maps, climbs, sights of interest along the way and ideas for how to make the most of the ride. We didn't miss anything."
 Richard & Annette - UK - June 2010.

"Neil has a complete menu of different rides to choose from, depending on the kind of challenge you want. Or he can create a route for you right on the spot."
Donna - US - June 2010.
Click HERE to read more about our GPS Systems.

Neil & Natalène COWELL- Provence Cycling Holidays - 536 Chemin du Sarret - 84220 Coustellet - France.
Tel: 00 33 (0)4 90 75 03 95 - Mob: 00 33 (0)6 66 99 98 02 - Email: neil_cowell@yahoo.fr
© Provence Cycling Holidays 2010 - All contents, all rights reserved. - SIRET No (French Company Registration No) 51922933000013