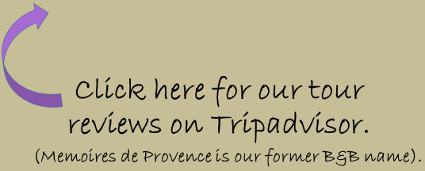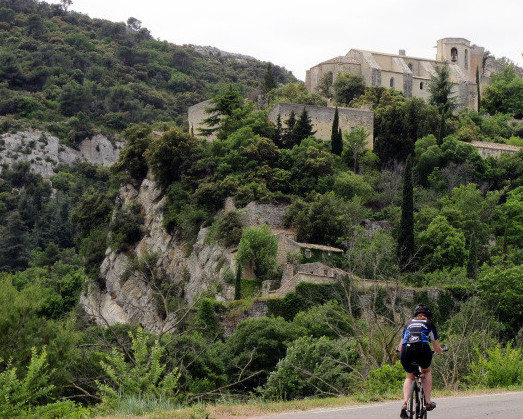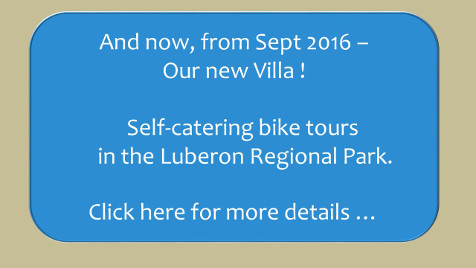 Sorry, we are now fully sold out for our 2016 tours.
Now taking bookings for 2017 for the Villa and the B&B.
Our self-guided cycling holidays are flexible - choose the right rides, distances and amount of sightseeing to suit you.
Use our quality hybrid bikes & our easy to use Garmin GPS systems, preprogrammed with 60+ rides for all levels.
And stay in our top rated 17th Century Farmhouse B&B in the Luberon Park, a great base from which to explore the beauty of Provence.
" We had a wonderful 6 days cycling in Provence. Neil designed great rides each day to match our ambitions that took in wonderful villages, great lunch spots and wonderful views. Hospitality was perfect."
Adrian - NZ - Oct 13.

" Neil and Nat's operation offers great food, great company, and great cycling routes. This is a perfect location in the middle of beautiful medieval France."
Nigel - UK - Sept 13.

" Really a great place for a small group as there are a variety of rides to fit fitness levels, moods, and you have both Neil and Nat's interest in the area and knowledge. If there were six stars this would be worthy!"
Belle - US - Jul 13.

" Everything was amazing, from the organization of the rides, to the scrumptious meals, to our friendly hosts."
Sarah - US - Jul 13.

" Thank you to Neil and Nat for an amazing time!"
Maureen - UK - Jul 13.

" Cycling heaven! For anyone who enjoys cycling, French cuisine, beautiful scenery and being sociable, this is an ideal place to book for a week or so".
Ezza - Australia - Sept 13.

" A week to remember! Would recommend a cycling holiday with Neil to everyone!"
Robert - Australia - Sept 13.

" I would recommend this trip to any cyclist."
Stephen - US - Sept 11.

"Hard to imagine a better vacation cycling in France..."
Peter & Frances - UK - Sept 2010.

"Fantastic! A haven for cyclists… Neil was extremely helpful in assisting us with route planning and pointing out many of the fabulous attractions of Provence."
Janette & Uys - South Africa - July 2009.
Neil & Natalène COWELL- Provence Cycling Holidays - 536 Chemin du Sarret - 84220 Coustellet - France.
Tel: 00 33 (0)4 90 75 03 95 - Mob: 00 33 (0)6 66 99 98 02 - Email: neil_cowell@yahoo.fr
© Provence Cycling Holidays 2010 - All contents, all rights reserved. - SIRET No (French Company Registration No) 51922933000013